There is a club tournament held each summer which is open to all members, with a variety of open and veterans' categories. Finals day, a well-attended social event, is held in September.
There are also occasional American doubles tournaments and charity events held throughout the year.  
Further details will appear on the news bar at the relevant time.
CLUB TOURNAMENT 2019
The tournament is currently underway.  Draws can be viewed:
http://lta.tournamentsoftware.com/sport/tournament.aspx?id=8B365D3D-EADE-418F-A1CA-48797B767B01
CLUB TOURNAMENT 2018 – FINALS DAY SUN 16 SEPTEMBER
What a summer it has been for tennis and what a finals day we had to cap it all off. I'm sure everyone who was at the club last Sunday will join me in congratulating all the participants in putting on an impressive and at times dramatic display of quality singles and doubles.
In fact the action started on the Saturday morning when in the Mixed Vets Doubles Helen O'Toole & Dave Thresher played some solid doubles to finally overcome the perennial winners of this event Melanie Eagle & David Willis. The two set victory was we think the 4th or 5th attempt by O'Toole & Thresher to overcome this experienced pair in the final, but who's counting, and who keeps the records?
Following that match it was the Men's Vets Doubles with Will Tink & Steve Brennan taking on Dave Clifford (DC) & David Willis. The double Daves took the first set and looked to be well placed to get the job done. However Steve & Will were hanging on in there and were able to wrest control. With Steve finding his range with his rapier like forehand and Will using clever placement and a steadfast refusal to gift any points the momentum changed. A break of serve suddenly found Steve & Will in a position to nab the second set which they duly did. They were in no mood to let the momentum shift back and played a brilliant championship tie break to finish the match and take the title.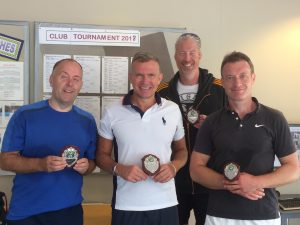 On to Sunday and first up was the Ladies Singles featuring Helen O'Toole and Becky Fenn. As was to become a common theme for the day this was an incredibly close encounter which could have gone either way. Becky played some great attacking tennis in the first set to take the lead but as with Tink & Brennan the previous day Helen was not going away and gradually edged her way to a 5-2 lead in the second set. When Becky got it back to 5 apiece it looked as if Helen had lost her chance but she kept her nerve and played some great clutch tennis to level at one set all. A close championship tie break saw Helen keep the momentum and take the title. Both players should be congratulated on a great match played in a great spirit, something that more than a few of the congregation on the balconies mentioned.
At the same time the Mixed Doubles final was being played out between Oscar Gordon-Reid & Tabitha Howe and Tom Knight & Amy Fotheringham. Again an incredibly close match. Oscar & Tabby took the first set (7-5) with Tabby in particular striking the ball with real intent. Amy and Tom settled down in the second set and played as we know they can, Amy brilliant at the net and Tom a tour de force rushing around the court with great athleticism.They took the second set 7-5 to set up another championship tie break. This time it was Tom & Amy who prevailed to take the spoils. All four players deserve praise for some highly entertaining doubles.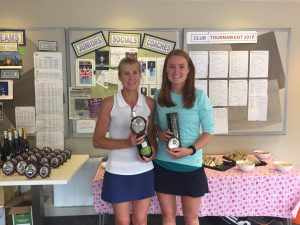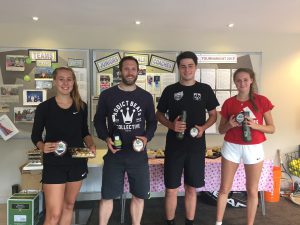 By now the club house was buzzing as the sun came out and the lure of free booze and a sandwich encouraged many an interested onlooker. The Men's Final and the Men's 45 Final took place concurrently on the main show courts. The Men's 45 final was between Steve Jarrett & 1st team captain Neil Scotland. Steve started like a man possessed and raced through the first set playing some breathtaking dynamic tennis. The first set was 6-1 and things looked ominous for Neil. However one thing Neil doesn't do is fade away. At the start of the second set Neil began slowly to find a way to compete, the errors were eliminated and before long the head scratching was replaced with a renewed confidence. With the set going on serve Neil got the crucial break and was able to level at one set apiece. Another championship tie break and some incredible tennis from both players under intense pressure. In the end Neil was able to complete the comeback and take the tie break. Credit to both players for such a high quality match.
The Men's final saw the master Max Robinson taking on his former pupil Oscar Gordon-Reid. The first set was a classic with some superb shot making from both players in difficult breezy conditions. Oscar was serving some rockets, particularly with the wind at his back but Max conjured all his know how to not only get the ball back but put Oscar in some tricky positions. However it was Oscar who had the first set points when receiving 5-4 up. Max not only saved the break points but then broke in the very next game to be serving for the set at 6-5. Somehow though Oscar found a way to break back and take the set to a tie break. Oscar's ground strokes started to find their range and when he took the tiebreak Max's task became ever more difficult. Oscar now looked like a man who believed, not easy when playing your old coach. Oscar powered his way through the second set playing some huge tennis. Max continued to play some outstanding tennis but this was very much Oscar's day and he took the second set to claim his first club championship.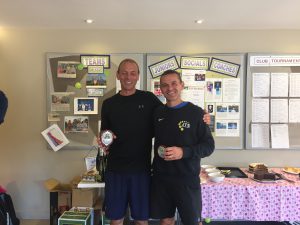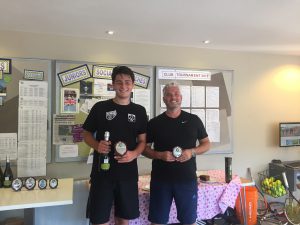 The Ladies Doubles was won by Phoebe Ecuyer-Dale & Amy Fotheringham who beat Nina Sherwen & Tabby Howe. Again some high quality doubles with Phoebe & Amy finding some impressive form. The score line may have looked one sided but as anyone who plays tennis knows, the tennis scoring system can often give a false impression, Tabby and Nina fought hard and no doubt will have better days ahead.
In the Ladies Vets Doubles Helen O'Toole took to the court again, this time with Anna Lefebvre du prey. They took on Sally Rothman & Janet Jones. A close first set saw Helen & Anna take the lead 6-4. With Helen still riding the high from her singles and Anna adding an injection of energy and dynamism they ran away with the second set. Sally and Janet gave it their all but it was not to be on this occasion. Well done to Anna for helping Helen to her 3rd trophy and also for volunteering to do the scoreboards next year.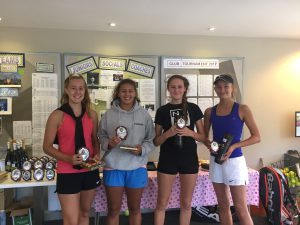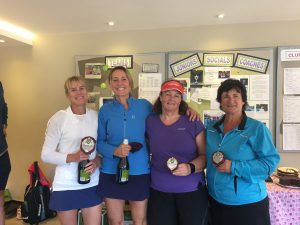 In the last final of the day Neil Scotland teamed up with regular partner Pete Savidge to face Howard Phillips & Cameron Webb in the Men's Doubles. An enjoyable match saw Neil and Pete win 6-2,6-4. Howard & Cameron fought hard and nearly got the second set as they raised their game and perhaps Neil hit the wall at the end of a very tiring emotional day, he'd started with a Mixed semi-final at 8:30am!  In the end Pete & Neil used their experience and undoubted skill to get over the line. Credit to Cameron & Howard who play very few competitive matches but gave a glimpse of the future when they will commit to playing team tennis for the club!
Congratulations also to the winners of our newest event the Men's 60s Doubles – Ian Campbell & Guy Temple who won the box league just pipping Dave Bishop & Alan Burner who pushed them all the way. Let's hope this event continues to grow next year.
That just leaves me to offer a big thank you to everyone who participated in the club tournament this year- it's the players who make a tournament so well done all for having a go. Hopefully you all enjoyed the thrills and spills along the way and if like me you were handed a bagel set along the way welcome to the not so exclusive bagel club.
Some stats for 2018: 167 individual entries, 109 matches, 472 audible obscenities (sorry neighbours), 2 smashed rackets, 3 attempted hotdogs (all by Oscar and all failing to land), 7 tumbles and 4 fresh air shots (including one in the Men's Doubles final!).
The Roll of Honour 2018
| | | |
| --- | --- | --- |
| | WINNER | RUNNER UP |
| Mens Singles | Oscar Gordon-Reid | Max Robinson |
| Ladies Singles | Helen O'Toole | Becky Fenn |
| Mens Doubles | Neil Scotland & Pete Savidge | Howard Phillips & Cameron Webb |
| Ladies Doubles | Amy Fothingham & Phoebe Ecuyer-Dale | Tabby Howe & Nina Sherwen |
| Mixed Doubles | Amy Fotheringham & Tom Knight | Tabby Howe & Oscar Gordon-Reid |
| Mens Vets Singles | Neil Scotland | Steve Jarrett |
| Mens 45s Doubles | Steve Brennan & Will Tink | David Willis & Dave Clifford |
| Mens 60s Doubles | Ian Campbell & Guy Temple | Dave Bishop & Alan Burner |
| Ladies Vets Doubles | Helen O'Toole & Anna Le Febvre du Prey | Sally Rothman & Janet Jones |
| Mixed Vets Doubles | Helen O'Toole & Dave Thresher | Melanie Eagle & David Willis |
Full results can be seen on the LTA link
http://lta.tournamentsoftware.com/sport/tournament.aspx?id=87FBB82B-9416-44C4-8041-CCCFBADD765A